Secrets from an early stage founder 🤫
🔥 Making a successful startup pitch deck, 😇 Why mentors are essentials in your startup journey?, ✅ Five must-have tools to hack your productivity and🎙 Three podcasts that I listen to regularly
Hi FTF Friends 👋🏼,
I hope you are keeping well.
Five Things Friday' (aka FTF).FTF is a short weekly dose of inspiration; this email captures five things I encounter in my startup journey. This includes, the books I read, blogs, podcasts, favourite productivity hack, startup strategy, quote I'm pondering, smart tools and stories.
What's packed in this week's post
🔥  Making a successful startup pitch deck
😇  Why mentors are essentials in your startup journey?
✅  Five must-have tools to hack your productivity
🎙 Three podcasts that I listen to regularly
🎯 Ambition leads to destiny
---
Billion-dollar startup pitch
Last week, I pitched MyGigsters for a pre-seed investment to an investment committee (Investors from a global venture capital fund). I aimed to raise half a million dollars to help my startup move into the next phase and accelerate growth and market fit.
The whole week was mentally draining with lots of conversation, consideration, preparing and discussion. For an early-stage startup like mine, partnering with the right investor is far more critical than getting sufficient money to progress.  
The good news, the pitch went great and we are moving into the next stage of the conversation and have got an offer from the investor 🥳
How to build an excellent startup pitch deck
The following resource was helpful to me in creating my pitch deck that earned my capital funding goal.  
The best "Elevator Pitch'" video I like on the internet.
Decoding this video and the three key takeaways
Opening - The opening of his pitch, where he calls out the word 'Gay', makes everyone turn their heads and pay attention to what he is about to say. This is a great strategy, where the opening of your pitch matters a lot and grabs the audience's attention.
Tell what is relatable to them - The speaker uses analogy and compares a Dodge car brand that the people in the room can relate to. He shares his love for Dodge muscle car with a careful choice of words in his pitch.
What do you have that we don't? This was a question asked by an exec in the room, and I love his response. It's 100% correct; the biggest strength of your startup is 'You' and your team.
If you guessed the name, share it in the comment section below or reply to this email. I am going to send two lucky winners $30 worth pitch deck that you can use.
Must watch video on the how-to pitch your startup
Tools to build your deck
Canva
Powerpoint
Google Slides
Get a deck designed by freelancers
Buy a deck from Envato Essentials - here
Links for reference
---
Get a mentor and become a mentor.
As a migrant turned startup founder, I face different challenges in building a team, raising capital, and solving problems.

I have been fortunate to be guided by some amazing mentors from all walks of life.
They have altruistically helped me -

🚨 become a better leader and managing a great team
🎯 In building resilience and feel comfortable with the unknown
💰 Focus on the things that matter
🎬 Look at the bigger picture
❗️ Critically evaluate all aspects of running a startup
🤹🏻‍♂️ Learn from their experience
👍🏻 Connect with more amazing people
Having access to these mentors have been the biggest asset to me on my startup journey.  If you are looking to grow professionally or personally, do me a favour and find a mentor. You will thank me later.
---
Three podcasts that I listen to regularly
#1 How I Built This with Guy Raz
Link to podcast channel - here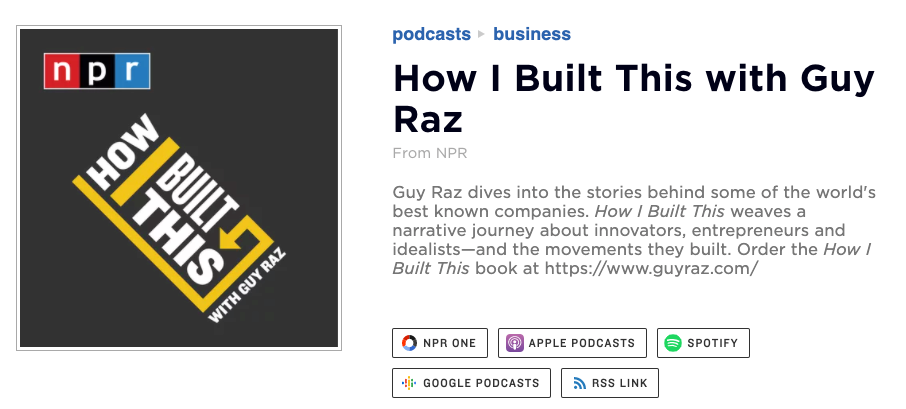 I like listening to this podcast channel. While the episodes are lengthy, they are well-produced and easy to follow and listen to.  Guy is a fantastic interviewer and brings stories of behind the scenes from exceptional innovators, leaders and entrepreneurs.  
#2 HBR Idea Cast
Link to podcast channel - here

I have been listening to this podcast for the last four years. A few mates introduced me from business school as this podcast was right from the Harvard business review. The episodes are only 30 minutes, and it is packed with great content.  
#3 Tim Ferris Show
Link to podcast channel - here

Downloaded over 700Million times, this podcast is a great channel to consume amazing stories about some of the most extraordinary personalities in the world. This podcast is my all-time favourite go-to weekend channel.
---
Five tools to hack your productivity
📆 Calendar - Simple but not important tool to schedule your day (both personal and work)
🧘 Deep work - Train your mind to do deep work - I wrote about this in this blog on How to 2x your productivity - here
📵 Block site to avoid distraction - https://blocksite.co/ - Try this chrome extension
💻 Use a good personal management tool - my favourite is Notion.io
📚 Read more and learn from other experts. There are tons of good stories and strategies from experts, and you can quickly try and adopt them into your lifestyle.
---
Quote I'm pondering
To accomplish great things, we must not act, but also dream; not only plan, but also believe - Anatole France (French author and poet)
Well, that's all for this week. 😁
I hope you like my FTF posts. Please share your feedback and suggestions in the comments below. I will write things that are most interesting and valuable to you. Also, if you think anyone in your network will benefit from these posts, please share.
Take care and be safe. 👋🏼
Upgrade Newsletter
Join the newsletter to receive the latest updates in your inbox.
Comments