Just dreaming is not good enough
How do I manage 4 startups and a 2-year-old daughter 🐣 while working full-time? How do I grow resilience 💪 and find peace with uncertainty One podcast episode 🎙 that changed my life
Hi FTF Friends 👋🏼,
I hope you are keeping well.
'What is Five Things Friday' (aka FTF).  FTF is a short weekly dose of inspiration; this email captures five things I encounter in my startup journey. This includes, the books I read, blogs, podcasts, favourite productivity hack, startup strategy, quote I'm pondering, smart tools and stories.
In the post, I am going to share
How do I manage 4 startups and a 2-year-old daughter 🐣 while working full-time?
How do I grow resilience 💪 and find peace with uncertainty
One podcast episode 🎙 that changed my life
---
2X your productivity with this method 👇
A year back, I was struggling with balancing work, personal wellbeing and family. As a startup addict🤫, At one point, I was actively involved in 4 startups while working full-time as a Senior ICT Quality Assurance professional for a National not-for-profit organisation.
Planning my day and focussing on the important things were crucial to me. I was hunting for a tool or method to help me understand how my day was consumed and how best I can organise my day.  Three things helped me.
Timeboxing method 💡- Essentially a technique where you create blocks of time in your calendar for different activities that are personally important to you.  
In my calendar, some of the activities include Deep work (I will share more about it in a separate post soon), content writing and social media, email reading, book reading, time with family, sports and other meetings slots.
Snapshot of my calendar for the week.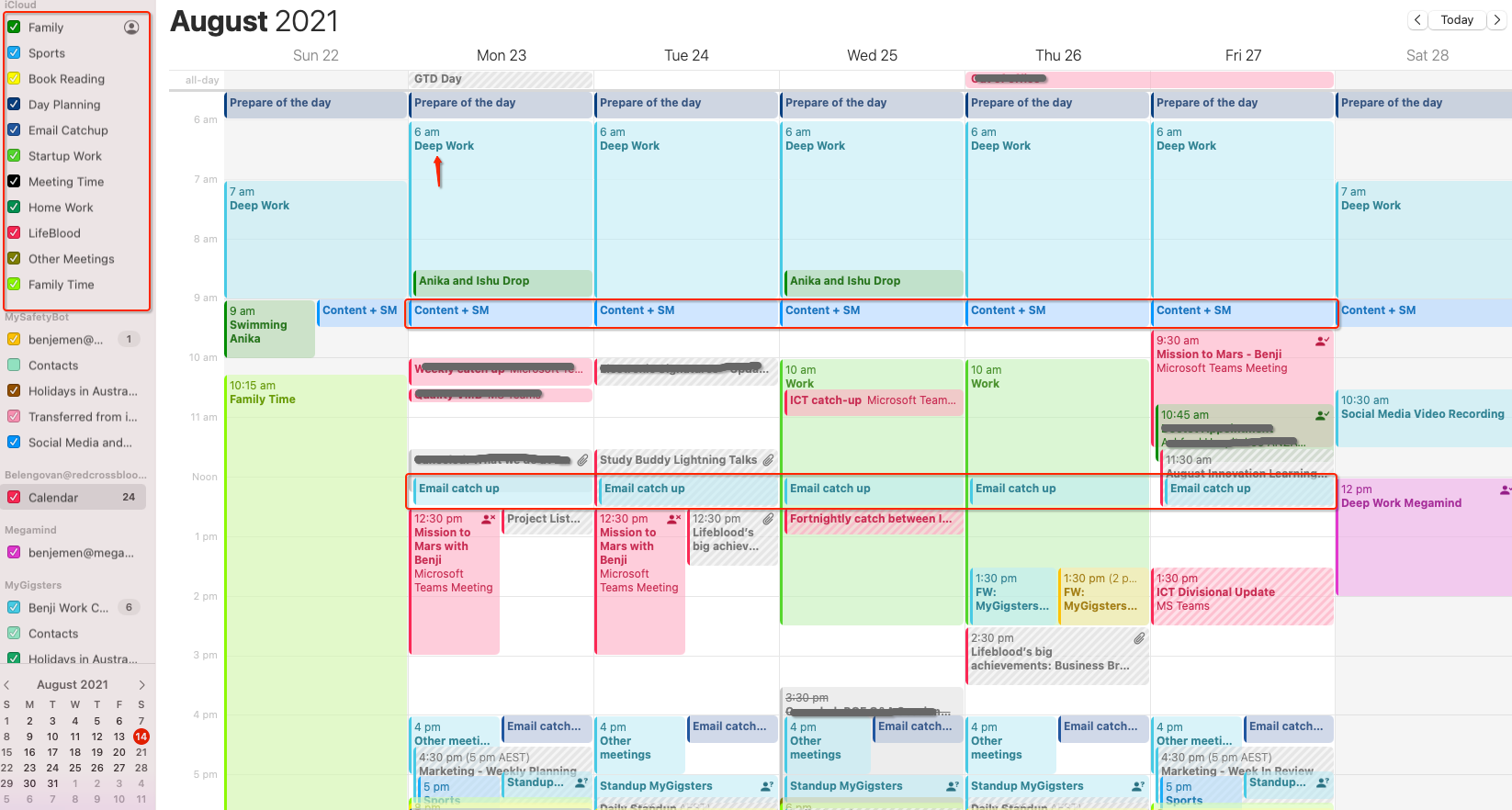 Some of the advantages of timeboxing
Since your calendar is already pre-blocked with activities, there is less chance to get distracted and fill it with non-productive work.
There is a mental shift when you have your day organised and planned. All the activities in my calendar get the attention it needs with minimal procrastination and ignorance.
Guilty me as a startup founder, I tend to work long hours, but the intention here is not to encourage you to work for 16 hours a day instead manage it effectively.
This method has a few drawbacks.
It takes time to perfect this method, and you would need to do multiple iterations to get to a sweet spot to make it work for you.
Sometimes, this method doesn't encourage surprises and sudden changes (like guests at home, events)
Not all of your family, friends and social circle will understand this and would think you are selfish with time. (Don't worry this is your journey and not theirs)
Tools I use for timeblocking
Calendar app (Google synced with my MacBook calendar)
Kosmotime (free version) - this is amazing, and you should try it -    https://www.kosmotime.com/
KosmoTime | Smart Calendar for Time Blocking & Focused Work
Becoming resilient and finding peace with uncertainty
There is a lot of books I would like to add to this topic. For this post, I will share two books that I enjoyed reading and which is share-worthy books.
Book #1 - The Subtle Art of Not Giving A F*CK by Mark Manson
The Subtle Art of Not Giving a Fck: A Counterintuitive Approach to Living a Good Life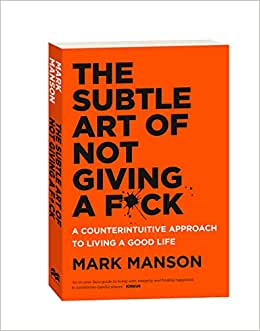 This is a short, casual conversational style book about dealing with life. I particularly enjoyed this as it was like having a conversation with a friend. I would recommend the audio version of this book for a better experience.
Book #2 - The Tipping point by Malcolm Gladwell
The Tipping Point: How Little Things Can Make a Big Difference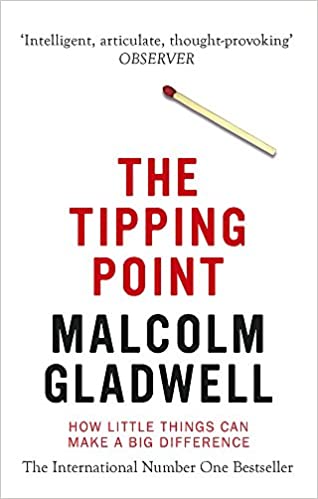 This book brings an interesting narrative on how to look at all the things around you and how to be prepared to experience the 'Tipping point'. This book will definitely open up your mental space and allow you to see the world differently.
Podcast Episode I highly recommend🎙
Episode #255 - How to turn failure into success from Tim Ferris podcast
"You will fall. And when you fall, the winner always gets up, and the loser stays down."
-Arnold Schwarzeneggerv
What I'm reading at the moment 📖
Still reading Think Like a monk and the next book on my plan is The 5 am club by Robin Sharma. I will share more about these in the coming posts.
Quote, I'm pondering 📖
"Success is not to be pursued; it is to be attracted by the person you become." – Jim Rohn.
Hey Benji - This email is supposed to come on Friday.
Yes, this happens when you start with a new habit; the mind goes through a struggle to adapt and accommodate it. I am determined to build this habit, and thanks to your support. Better late than never
Please share it with your friends and family loved ones. Keep the knowledge flowing 🤩
Upgrade Newsletter
Join the newsletter to receive the latest updates in your inbox.
Comments